This past Friday I received the awesome news that my November Love Inspired Suspense, the yet-to-be-named firefighter story that we've talked about here before, looks good and will go straight to line edits. I only had to tweak a couple of things.
And as I read through the epilogue, I came to this line:
"Jake hoped he never stopped getting that fluttery feeling in his stomach every time he turned on his street since asking Kara to marry him." 
Do you know the fluttery feeling I'm talking about? Do you still get it when you think about the one you love?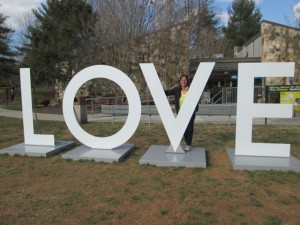 My hubby has this way of smiling sometimes that gets me every time.
Anyway, for some reason reading that line got me thinking about our relationship with God.
I remember how eagerly, as a new believer, I devoured the Bible and every study book I could get my hands on. Just like the getting-to-know-you time of a new relationship. Then after a time the shine of the newness wears off a little. Doesn't it?
Yet, when you persevere, you truly experience the truth and depth of meaning of Lamentations 3:22-23:
The steadfast love of the LORD never ceases; his mercies never come to an end; they are new every morning; great is your faithfulness.
Now, my hubby happened to be away on business this past weekend, and although I honestly admit that after 26 1/2 years of marriage, I don't experience that fluttery "new love" feeling every time he comes home, I sure did when he came home after being away…and driving back in a blizzard!
But while the fluttery feeling is fun, it's the abiding love, the deep-seated knowing that this man, who's seen me at my best and at my worst, is here for me no matter what.
Just like God is.