What a pleasure it has been to once again be working my way through my to-be-read pile! Last week, I read fellow LIS author, Lynette Eason's newest release, Danger on the Mountain.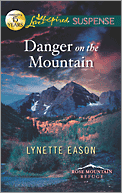 I can always count on a fast-paced suspense with a satisfying romance when I pick up one of Lynette's books, and Danger on the Mountain didn't disappoint. It started with a shoot-em-up-bank-holdup-near-kidnapping and tensions remained high straight through to the explosive finale.
The hero Reese is a new deputy in the small town of Rose Mountain–a man still trying to heal from the loss of his wife and child.
I asked Lynette what inspired her to write his story. Here's her answer:
Well, he needed one. 🙂 Reese was a character in a previous story, Holiday Hideout. I just loved his character in that book and decided he needed his own story. And sure enough, as soon as I started writing it, and brought a woman into his life, he just came alive. I really like Reese's story and hope readers will too!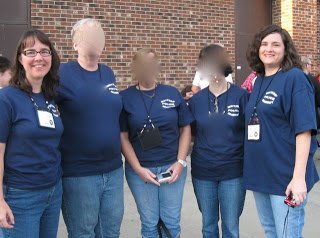 Lynette and I first got to know each other when we roomed together at the 2010 Writer's Police Academy. We're the ones on either end, and in true cop form, we've smudged out the faces in between to protect their identities. ~grin~
For those readers not familiar with Lynette, she's the award winning, best-selling author of several romantic suspense novels, including Too Close to Home, Don't Look Back, and A Killer Among Us. She writes for Revell as well as Harlequin's Love Inspired Suspense line. She is a member of American Christian Fiction Writers and Romance Writers of America. Lynette graduated from the University of South Carolina and went on to earn her master's degree in education from Converse College. She lives in South Carolina with her husband and two children.
And…did I mention she's very generous?
Lynette is giving away THREE copies of Danger on the Mountain. Just join the conversation below to be entered, then come back next Monday when the three winners will be announced.
Your Turn: Reese is determined to get the person who's after Maggie and her baby. He couldn't help his wife and daughter, but this is something he can do. He can catch the bad guy for Maggie. What does this tell you about Reese's personality? Yes, I'm making you think to be entered in the giveaway. 🙂