Okay, so this blog is about characters… And I have a real one in my house.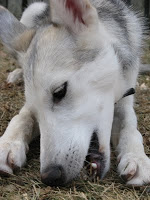 The dog. 
She's graduated from ripping apart rubber boots to gnawing on my hubcaps! 
Now, in fairness to the poor puppy, it's not as if she ripped them off my car. 
If she had I'd be signing her up for the next movie spoof on street crime in Harlem.
No, she snatched them from the garage. But really…what was my son thinking not putting them back on the car when he changed out the snow tires?
We're talking puppy here. And well…hubcaps they look like giant Frisbees. Don't you think?
She apparently thinks they're the greatest thing since—well—rubber boots.
Now, I know what you're thinking. Hubcaps are metal. How much damage could one little puppy do? I mean she's so sweet she flops over dead if you so much as say bang— unless you don't have a visible treat, then she moans a lot on the way down. Come to think of it, maybe the movies is where she really needs to be…
But back to my hubcaps. Did you know hubcaps have these little plastic tabs that hold them in place. Plastic! What teething pup could resist plastic?
I must say to her credit that as soon as you tell her not to chew something, she stops and won't do it again. She has lots of perfectly sound chew toys to prove it. My mistake was in only telling her not to chew hubcap number one!
Your turn: What's the funniest, cutest or most annoying thing your pet has ever done? Click on "Comments" to share.