Thank you to all who shared their hilarious pet stories over the weekend. Today, we're going to talk about a different kind of character, or rather character trait. Being honorable. 
I think it's safe to say that most female romance readers, as well as the heroines that populate romance novels, long to fall in love with an honorable man.
My dictionary defines honorable as "having or showing a sense of what is right and proper; honest; upright: It is not honorable to lie or cheat."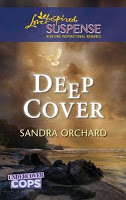 Ouch! Not looking good for Deep Cover's hero Rick Gray, an undercover cop who's obligated to keep his true identity, occupation and purpose from the heroine Ginny, a woman who esteems honesty above all else.
Rick likes Ginny, really likes her, and desperately wants her to see him as honorable. Each Love Inspired book has a scripture quote before the title page. For Deep Cover, it reads 'There is nothing concealed that will not be disclosed, or hidden that will not be made known.'" Luke 12:2
For most people the verse is an uncomfortable truth, whereas Rick longs for the day he can disclose his true life to Ginny. The day she will finally understand that he works for a greater good. The day she will know he's honorable. 
Rick holds to the maxim that the end justifies the means. But as an undercover cop, sometimes those means are contrary to God's Word.
It's an interesting dilemma, don't you think?
For Rick, feigning to be someone he's not in order to bring a bad guy to justice is not the problem. Perpetuating the lie with a woman he cares for—for the sake of the case and her own protection—is.
But the bad guys need to be stopped. And he's working within the law to do that. He's doing his job. Yet, his conscience is torn.
A cop's job is certainly a tough one, and all one has to do is watch the evening news to see why—shootouts, car chases, kidnappings, robberies, murder, and, well, you get the idea. But there's a private side to law enforcement that not many people see. And that's the side where an officer must sometimes push his/her core beliefs aside to get the job done.
An undercover assignment can have a negative impact on officers who try their best to keep their faith intact while working in an extremely faithless environment. After all, working undercover often means having to take on the guise of an immoral person. And some real-life cops have found themselves in a genuine struggle trying to separate reality from their make-believe undercover world.
Officers like Rick Gray, who protect others at all costs, eventually rise above the rest. They're the officers who take their oaths seriously. Sure it's a tough job, and it takes a tough person to do it, but isn't toughness a trait of all heroes?
Thanks, Lee. Speaking with officers to research for this story, and participating in the
Writer's PoliceAcademy
 that Lee organizes, and writing Rick's story, has certainly given me a broader appreciation of the emotional havoc law enforcement officers sometimes face.
Your turn: What do you think? Is it possible to be a man of honor and live a life of lies?