Port Aster is the fictional town I've created in the heart of the Niagara Peninsula, Canada, for my new mystery series Port Aster Secrets. But I'd like to share some photographs of several of the real places that inspired me, which I then drew together to create my little town. 
The heroine, Kate Adams, is a herbal medicine researcher, who works at an agricultural research station outside of Port Aster, a place based loosely on what is still referred to by locals as the Vineland Experimental Farm, but which has now partnered with Guelph University and been renamed the Vineland Research and Innovation Centre.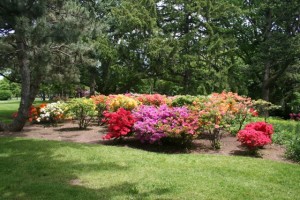 The town itself has a cobbled main street with flower baskets hanging from old-fashioned lamp posts, the smell of cinnamon buns wafting from the bakery, and enticing wares spilling onto the sidewalk from quaint little shops, and was inspired by the main street of historic Niagara-on-the-Lake…although its street isn't cobbled. 🙂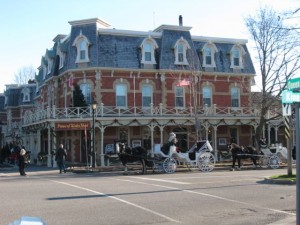 This is the Old Niagara Bookshop in N-O-T-L, which actually carries copies of Deadly Devotion!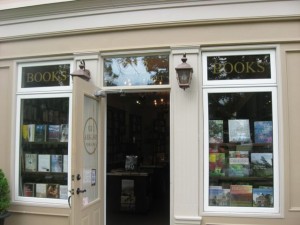 The social hub of Port Aster is the Tea Shop, which I conjured up from my imagination, although while visiting Colorado after writing the story, I found this shop, which has  the kind of ambiance I'd envisioned for mine.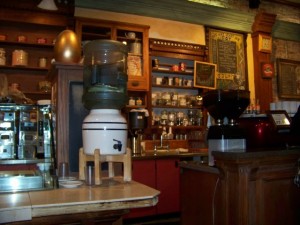 Except that in Port Aster's Tea Shop, there are rows of glass jars lining the counter, filled with herbs of every description that patrons can choose from to create their own tea blend.
 The story begins in May as fruit trees in the surrounding countryside are blooming.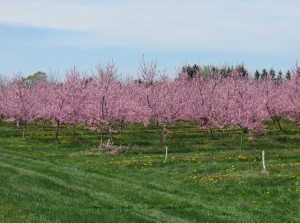 Then later, Kate's situation turns precarious at the top of "Sumptner Falls" inspired by Vineland's Balls Falls…at least as I wrote the scene, I pictured my heroine hiking the trail to the upper falls (before the new building). But the picture below is of a falls in the heart of Short Hills Conservation Area, because I couldn't find a good angle to take a picture of the upper falls.
Don't those images make you wish you could visit Port Aster? 😉
At the start of June, when Deadly Devotion releases, these photos and more will appear in my "bonus features" for "on location".
Your Turn: Have you ever been inspired to visit an area you read about it in a novel?