Brenda Novak's Annual Online Auction for Diabetes Research is gearing up for its biggest year yet. Thanks to all who have participated in the past — both donors and shoppers — the auction has raised a cumulative total of $1.6 million. This year they are hoping to surpass $2 million to help all those with diabetes.
The auction opens on May 1, 2013 and this year they're doing something new. Each person who registers as a shopper for the 2013 auction will be entered to win a brand new iPad (Value $499).
Each year they also offer an amazing prize package to the person who places the most bids over all. This year it will consist of: A brand new MacBook Air ($1100 Value), a $200 Macy's gift certificate and much more.
Browse the site to find lots of awesome packages for readers and writers and anyone–like a week at a timeshare in Hawaii!!!
My own contribution isn't nearly as exotic, but I hope you'll find it fun!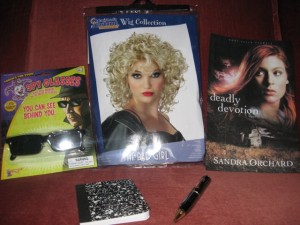 THE UNDERCOVER SPY KIT CONTAINS:
ONE of each of the following:
A Spy Pen – a working ink pen, with mini video camera and audio recording (not exactly as depicted)
A little black notebook –for recording those all important furtive moves
A blonde wig – so no one recognizes you
A pair of spy shades – unique sunglasses that will conceal where you're looking, including the side mirrors that allow you to see behind you
One trade paperback copy of Sandra Orchard's June 2013 romantic suspense/mystery Deadly Devotion
A black satchel to conceal the items when not in use
Approximate value over $65.00.
Click the picture or the kit name above to bid or tour the site. (Shipping within US is included for all items. For the spy kit shipping within both US and Canada is)
Your Turn: What are some causes you like to support and why? What's the most unique or successful fundraiser you've ever seen?