I'm delighted to be joined today by popular romantic suspense and mystery author, Nancy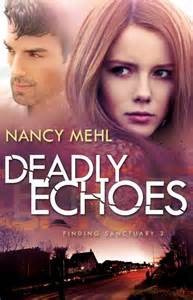 Mehl, to talk about her newest release, Deadly Echoes, and a special contest she has going on to celebrate its release.
What inspired you to write this particular novel?
Actually, I'd been thinking about jealousy and competitiveness. Why sometimes we feel threatened by someone else's success, looks, or possessions. I was wondering what causes us to compare ourselves to others in the first place. Jealousy is like a slow poison that can work its way into every area of our lives if we open the door to it. It weakens us and steals our joy. I believe a lack of knowing who we are in Christ makes us susceptible to the green-eyed monster. Addressing this problem inspired Deadly Echoes.
My main character, Sarah Miller, was orphaned at a young age. Her sister, Hannah, was adopted, but Sarah wasn't. Even though her life has turned out well, She's never lost her belief that Hannah was adopted because she was prettier and more worthy of love. Sarah would never admit to being jealous of Hannah. She truly loves her sister, yet she lives under Hannah's shadow, accepting a false reality based on her own feelings of inadequacy. As my story unfolds, Sarah will not only have to deal with threats from the outside, she will have to look inward and deal with her own demons.
Very intriguing. Tell us a little bit about yourself: How did you start writing? What has kept you writing?
I started writing when I was 45. I'd thought about it off and on, but one day I finally decided to give it a try. It didn't take long for me to discover I loved writing novels. After a few years, I went before the Lord and asked Him if this was something He actually wanted me to do. I didn't want to spend years doing something that wasn't His will for me. He answered me in the affirmative, and I've been writing ever since. When things get tough, I fall back on my belief that I'm called to write.
Inspiring! Do you have a favorite or "life" verse? Why that one?
I have to mention two different verses. Of course, all the words in the Bible are special to me, but Jeremiah 29:11 is a verse that conveys a truth I try to build into every story I write. (For I know the plans I have for you," declares the LORD, "plans to prosper you and not to harm you, plans to give you hope and a future.) It's so important for people to realize that God is interested in them – that He has a wonderful plan for their lives. The devil would love for us to feel as if we have nothing special to offer, but that just isn't true. God has filled each one of us with gifts and callings. We are unique in the Kingdom, and no one else can take our place.
The other scripture that means a lot to me is Psalm 37:5. ("Commit your way to the LORD; trust in him, and he will bring it to pass.") God has used this verse in my life to encourage me to quit worrying about my career, my finances, the future, etc. I used to carry the weight of the world on my shoulders, but now, I'm learning to cast my care on God and trust that He will take care of every situation. I believe He will work everything out in His timing and in His way. What a relief! I'm still learning, and sometimes He has to remind me again when I start to slip, but thanks to Him, I'm making progress!
That's great, and so reassuring. Can you tell us about your next book?
The next book in my Finding Sanctuary series is Rising Darkness. This is a special story to me because I'm actually bringing back a character from my Road to Kingdom series. Sophie Wittenbauer was a troubled teenager back in Kingdom, Kansas. I always felt that her story needed to be finished, and I'm happy I can finally do that for her.
After Sophie left Kingdom she worked hard to make something out of her life. Now she's a newspaper reporter. She recently stumbled across some information that could lead to an incredible story. The kind of story that could launch her career as an investigative reporter. However, to uncover the truth she must travel to Sanctuary, Missouri. When she discovers there is a Conservative Mennonite community living there, she almost scraps her plans. Being around people that remind her of her past in Kingdom is the last thing she wants. But the desire for fame and fortune drive her to ignore her fears and go to Sanctuary.
Once there she runs into a face from the past. Jonathon Wiese is the pastor of a nondenominational church in the small town. Sophie is mortified at seeing him again. She's thought about him almost every day, and her feelings for him are just as strong as they ever were. Thankfully, he doesn't make the connection between the sophisticated woman she's become and the dirty uneducated teenager she used to be. As she tries to deal with seeing him again, she begins to uncover clues that could lead to finding a notorious criminal who vanished years ago. But before she can find him, he seems to have found her. Sophie will not only have to face her love for Jonathon, but also the very real fear that she will never leave Sanctuary alive.
Oh, that's cool. I loved the book covers for that series. They were the inspiration for my Port Aster Secrets series.
Readers you can learn more about Nancy Mehl's contest by clicking the book image above or the link here.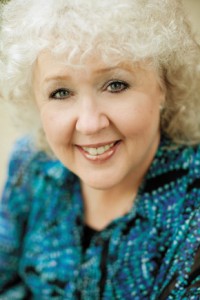 Nancy Mehl lives in Festus, Missouri, with her husband, Norman, and her very active puggle, Watson. She's authored twenty books and just finished a new series for Bethany House Publishing. The first book in her Finding Sanctuary series, "Gathering Shadows" was released in May of 2014. The second book, "Deadly Echoes" became available in February. The third book, "Rising Darkness will release late in 2015.
You can learn more about Nancy through her Web site: www.nancymehl.com. She is part of The Suspense Sisters: www.suspensesisters.blogspot.com, along with several other popular suspense authors. She is also very active on Facebook.
Have a great week everyone! I'll be back on Valentine's Day to share a special serial read.