I'm delighted to have Elizabeth Goddard, author of the Mountain Cove series with Love Inspired Suspense, here to share a bit about her latest novel, Deception. Take it away, Beth…
Thank you, Sandra. I recently read an article titled, "Where's Your Dream House?" in Woman's World magazine's June 13 issue. Perhaps you read the same article. One gorgeous scenic image jumped out at me—a beautiful, clear river running toward a snow-capped mountain in the distance. Yes! That's where my dream home would be.
Among the other choices were a beach, the country, the city and the suburbs.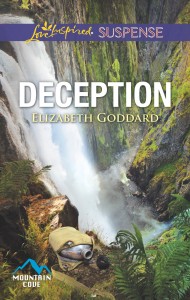 The article explained that by choosing the mountains, choosing to live in a serene setting, I'm an introvert and that I "have an inherent ability to see situations with a wide perspective."
I don't know about the perspective part but I'm certainly an introvert! But the article made me think about the books I write—the part I love most about my stories is the setting. Writing novels set in places like southeast Alaska (my Mountain Cove series) let's me spend all that time enjoying the setting, at least in my head.
I've always been a daydreamer, and if I'm not living somewhere then escaping to an exotic location in a novel set in such a place is the next best thing. When I'm searching for a new novel idea, I almost always look for the setting first.
As readers, I'm guessing that's not necessarily what you look for first when deciding whether you want to spend the next few hours or days with a novel. If it's set in a place you'd love to see, then that might catch your interest, but you also want action, adventure and intrigue. Throw in some romance and you're all set.
That's exactly what you'll get in Deception, the 6th novel in the Mountain Cove series.
Here is what reviewers are saying:
I thought that the description of the wild Alaskan scenery was breathtaking and that it made me feel as if I was there. –Britt Reads Fiction
. . .the vivid imagery of the Alaskan wilderness . . . Deception is an exciting tale and a recommended read for fans of romantic suspense!—Buzzing About Books
Vivid descriptions and action bring the story to life—RT Book Reviews (4 STARS)
Thanks for having me, Sandra! And thanks for joining me, Readers!
Me again. My pleasure, Beth. Readers here is the back cover blurb for Deception and some more info about Beth.
TRAIL OF SECRETS
Jewel Caraway thought she'd left her mistakes in the past—but then her past arrives at her door. Though she's thrilled to reunite with her estranged sister, something about her sister's new husband makes Jewel uneasy. Does he know her secret? Is he the one behind the growing list of attacks against her? And if he is involved…does that mean her sister is, too? With nowhere else to turn, Jewel must rely on police chief Colin Winters—the first man to make the widow question her resolve to never love again. But will he stay by her side when her guarded secrets are revealed?
Mountain Cove: In the Alaskan wilderness, love and danger collide
To see purchasing options for DECEPTION, visit Beth's website at Elizabeth Goddard.com or her Amazon Author Page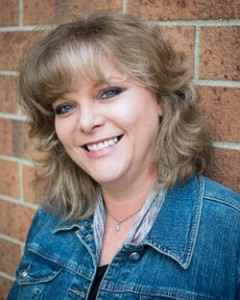 Elizabeth Goddard is the bestselling, award-winning author of more than twenty-five romance novels and counting, including the romantic mystery, THE CAMERA NEVER LIES–a 2011 Carol Award winner. She's a double finalist in the 2016 Daphne Du Maurier Award for Excellence in Mystery/Suspense for her books BURIED and BACKFIRE in the Mountain Cove series.
A 7th generation Texan, Elizabeth graduated from North Texas State University with a Bachelor of Science in Computer Science and worked in high-level software sales for several years before retiring to home school her children and fulfill her dreams of writing full-time. She currently makes her home in Minnesota with her husband and children.
To get book news sign up for her newsletter at her website: http://elizabethgoddard.com
You can also connect with Elizabeth on Facebook: http://facebook.com/elizabethgoddardauthor
or Twitter.com/bethgoddard