This past Saturday, I had a blast leading a workshop at a retreat for Hospice Niagara Volunteers.
Hospice Niagara is a fabulous organization that provides compassionate care, hope, and encouragement to residents of Niagara with life-limiting progressive illnesses, as well as support to their caregivers, families and those who grieve their deaths.
Of the more than 350 volunteers with Hospice Niagara, 80 attended the retreat. And as the comedian who opened the event for us noted, with the majority of those volunteers being women, it's a great place for retired single men to meet women…ur, volunteer. 😀
The theme for the retreat was about Inner Growth – stretching oneself to try and learn about new things. So…with the help of my daughter…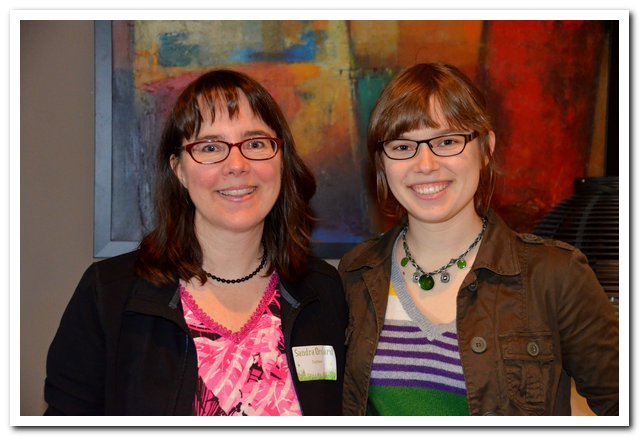 I took my group of about twenty participants on a whirlwind tour of my journey from know-nothing newbie to published author, (which as it turned out, inspired some of the memoir writers in the group to do some revising to incorporate more fiction techniques into their writing). Then I coaxed everyone (well…almost everyone) into unleashing their imaginations as we brainstormed the plot and characters for a collaborative mystery story.
We had a riot, exploring motives and methods for…ur…killing off someone at the retreat–fictionally, of course.
We tallied an impressive list of suspects among the attendees. My secret suspicions that one person in our midst was CIA turned out to be not far off, as he later admitted to me that he was a former federal investigator.
Guess whose number I now have on speed dial? 😉
As part of my demonstration of how writers use seemingly incidental events as red herrings or secret reveals, my daughter wowed the participants with her acting talents
We also talked about how eccentric characters add so much to the texture of a story and searched the room for a few.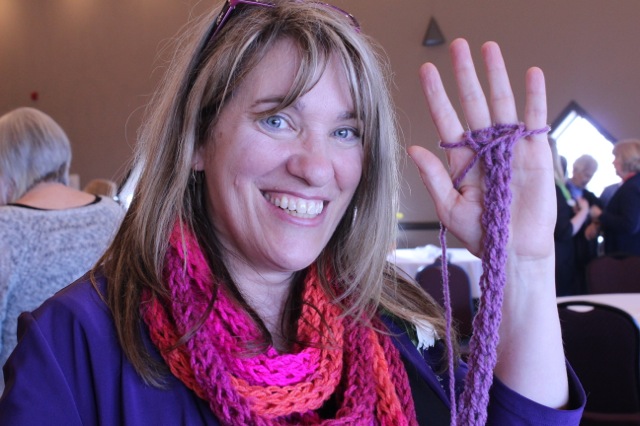 Enter Barb, our finger knitting lady–a topic for a whole other blog!
We also decided Barb would make a wonderful sleuth, since she loves to read mysteries, especially yours truly's. How can I not admire her taste? 😆
As a bonus, I'm writing the story we brainstormed and sending it to the participants and my newsletter subscribers (click here to not miss it).
The faint of heart will be happy to learn that to keep the story short, our sleuth needed to solve the mystery at the event, so I opted to not allow our would-be murderer to actually succeed. That way the paramedics can truck off the victim to the hospital, as of yet unaware of the cause for his near-death condition, so we can dispense with the police getting in our sleuth's way with all their rules and regulations.  😎
You can learn more about my talks and workshops on my Invite Sandra Orchard to Speak at your Event page.
Here's a clip from this past weekend's event (right click to open in a new window to allow time to load
Your Turn: What kind of topics would you like to hear an author talk about?