Happy First day of summer! It's appropriate that revisiting my twenty-first book should happen today, since Paying the Piper begins on July 4th, at an Independence Day picnic, in Loch Mallaig, Michigan. 🙂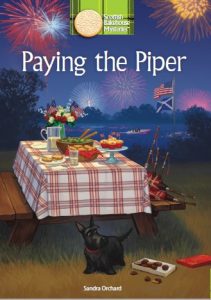 This mystery revolves around a state-wide baking competition being held as part of the town's annual Scottish Festival & Highland Games. We had the opportunity to watch some of the traditional events at such a festival while vacationing in Northern Ontario a few years ago. If you have the opportunity to attend one, go for it. They're a lot of fun.
I'm sure a murder won't take place at yours. 😆
Scottish Baking Recipes
I had to research a lot of traditional Scottish baking recipes for this series. Have you ever heard of millionaire's shortbread or clootie dumplings? I hadn't.
And of course, the only way to write about them authentically is to sample the goods. Yes, research can be a tough job, but I'm willing to gain a few pounds for the team. 😆
If you'd like to join me, here's a good place to start: https://insanelygoodrecipes.com/scottish-desserts/
Rafflecopter Winners
I debated waiting until June 25th to announce the ten winners of my upcoming release, Boughs of Folly, since that will be the day I profile it here.
But for once in my writing career, I decided NOT to keep you in suspense. 😀
Don't be sad if your name isn't here though, because I have three more books to give away over the next few days, so stay tuned!
P.S. One of those books will go to a randomly selected blog commenter. So, don't be shy about leaving a comment to let me know which book you'd love to read. 😉
Onto the winners…drum roll please
Congratulations to:
Christin F
Kara V… M…
Patti Jo M
Ann S
Jackie Pad…
Linda O
Beverly D…-M…
Edward A
Sandra A
Linda Gaw…
I emailed each of you last night to request your mailing address, so if you didn't see my email, please check your spam folder and add me to your safe senders list. 😎
Happy Reading!
Your Turn:
What's your favourite thing connected to the Scots? For me, it's scones. Yum! Although…I do love listening to Amazing Grace on the bagpipes. And I have a lovely wool tartan blanket I cozy up under to read on cold winter nights. 🙂