Lots of Firsts
The Hound and the Fury was my first Annie's Fiction title, my first cozy mystery, my first audio book, and my first Amish setting, although the main character isn't Amish.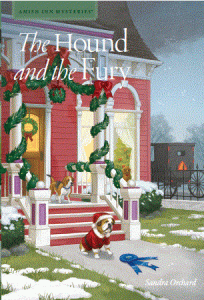 Audio Books
I discovered last night, while writing this post, that I now have books in audio! How cool is that?
They're reasonably priced too. You can subscribe to receive one audio book in the Amish Inn Mysteries every three weeks for $5.99, (same price as Ebooks). The Hound and The Fury is #17 of 24.
Back Cover Blurb:
A dog show has come to Pleasant Creek, and Liz Eckardt is hosting both two- and four-footed guests at the Olde Mansion Inn. After a busy day of Christmas preparations, a visit to the dog show seems like the perfect way to unwind.
But more than a few people are barking mad at one of the judges. It seems he has a predilection for pets of the toy variety, and owners of the big dogs may not be getting a fair shake. When the judge goes belly-up, stabbed with Liz's knife, Liz knows she must jump into action. Someone's committed murder in the first pedigree, but who?
Meanwhile, one of Liz's guests has hightailed it out of town. Convinced her guest's disappearance is not just a clever trick, Liz can't help but nose around. Turns out the murdered man had more than one enemy willing to fight tooth and nail to see him dead–and some of them lie sleeping under Liz's own roof.
Can Liz and her pack of pals, Amy, Beans, and the Material Girls, collar a criminal before more trouble is unleashed?
The Inspiration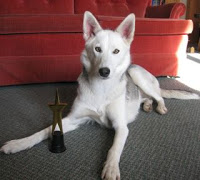 This is Bella and that's the acting award she won for a production my daughter produced. She doesn't actually do that many tricks, but she does them with enthusiasm! 😆 And her love of doing anything for a cookie, along with a neighbour's yard full of dog agility equipment inspired the dog competition venue for this murder mystery.
I'm still giving away books
I still have 17 more books to give away in my 25-book giveaway in celebration of the release of my 25th novel this month, so if The Hound and the Fury sounds like a book you'd like to read, let me know in the comments.
Ten of the books left to give away will be through this rafflecopter giveaway. There's only 4 days left to enter, so don't delay!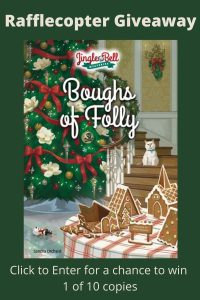 Today is the LAST Day:
Download Identity Withheld for only $1.99 for:
Kindle from Amazon US, from Amazon Canada , iBook from Apple, Nook, EPub from HQN, GooglePlay, and Kobo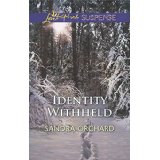 You can also still…
Download A Fool and His Monet for free. Get it for: Kindle, Kobo, Nook, Google Play, and iBook