It's National Library Week in the US, and although I'm Canadian, I couldn't resist the opportunity to encourage you to thank a librarian this week. How can you not love people who love books and who want to help you find just the right one to meet your needs?
I was blessed with parents that loved to read and who filled our home with books and many trips to the local library. Today, libraries and used bookstores are two of my favorite places to visit when touring a new area.
There aren't many places that appeal as readily to young and old alike. And we authors believe in fostering that love of reading … young. 😀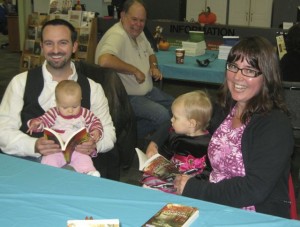 Okay, for the record, the book that other author's baby is engrossed in has pictures. LOL
Besides being able to browse through an amazing variety of titles, the architecture of libraries is often inspiring in and of itself.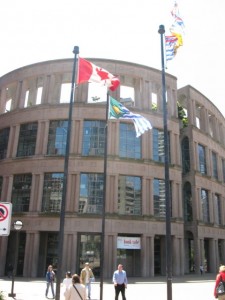 I wish I'd had the chance to do more than a "drive by shooting" of the Vancouver Library when we visited the city after our Alaskan Cruise.
Speaking of cruises… 😉 (nice tie in, eh?)
This week the heroine of Perilous Waters is visiting Margaret Daley's blog. Stop by and leave a comment on her interview for a chance to win a copy of the book for you or a friend.
Your Turn: Do you have a favorite library memory to share?
Oh, by the way, for the curious, Canada celebrates National Library Month in October.