My newest hero, Joshua Rayne, (Fatal Inheritance, Aug 2013) said, when I interviewed him, that men should learn that you can never figure out what a woman wants. 
He said, "I thought I was being respectful by not chasing after a woman who cuts out on me, but my sister told me that sometimes that's exactly what they want, to prove we love them. Love them enough to risk rejection again!" 
This idea resonated with my beta readers, but then…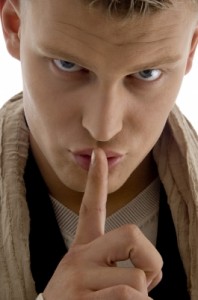 there are those creepy guys–like the heroine's ex-boyfriend–that won't take no for an answer, guys who you really, really, really wish wouldn't chase after you.
Your Turn: What do you think? Have you ever walked out on a guy and wished he stopped you? Guys, ever wondered what you're supposed to do? 😉
Image courtesy of imagerymajestic at FreeDigitalPhotos.net