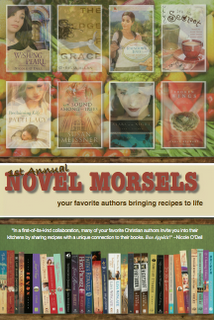 A collaborative recipe Ebook bringing your favorite Christian authors and their favorite foods together. 
Sixty-five Christian fiction authors have come together in this first-of-its-kind e-book, sharing more than 120 recipes that connect to their books or their characters.
The book retails for $2.99, but as my gift to you, my blog readers, newsletter subscribers and Facebook fans may use this special coupon code [ SandraOrchard ] to download the book for free!!


Enter my coupon code in the bottom left hand corner and click apply. The book will then show a zero balance owing, and you can proceed to checkout. 
Just so you know what to expect… 
You will be asked for your name, email address and phone number. You can simply put your first name and n/a for phone number, but ensure you type your email address accurately as your receipt and download link will be emailed to you. 
The receipt will appear in your inbox almost immediately, but I found that the email with the download link was delayed by a couple of hours. Rest assured that it will come. You may want to check your spam file if you don't see it after a few hours. The book itself is a 55.6 MB pdf file so if you're not on highspeed, it could take a while to download.
Soon, Novel Morsels will be available for Kindle and Nook. I'll keep you posted.
P.S. Friday we have a special guest visiting in honor of Remembrance Day/Veteran's Day that you won't want to miss. 


Your Turn: What's the most memorable or touching gift you've ever received…not counting God's most precious gift of his son?