I was recently invited to join the
International Christian Fiction Writers
blog. Written by
authors of Christian fiction representing a variety of rich cultural traditions from Canada to the UK to Tasmania to Brazil to Mozambique, it's goal is to promote international Christian fiction.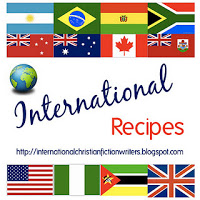 In celebration of our second year of blogging, we've collaborated to create an International Recipe Ebook which we're giving away as a free download to our readers.
Travel with us around the world as we sample delicacies that uniquely represent our home countries or the settings of our books.
Try our exciting selection of entrees, sides, mains, desserts and snacks:
• Peanut soup from Bolivia.
• Chicken croquettes from Brazil.
• Cornbread from Tennessee, USA.
• Cranberry salad from Australia.
• Bobotie and Cape Lamb Pie from South Africa.
• Mennonite stew from Canada.
• Passionfruit and coconut cake from Mozambique.
• Pavlova from New Zealand.
• Scones from England.
And many more! Over 40 recipes in all. 
Don't miss… the hero of Deep Cover, Rick Gray's delicious and oh-so-easy chili that he teaches the heroine's little sister how to make. Click here to download the book. You can choose from a variety of formats that can be read online or on popular Ereaders, or as a pdf for printing. 


Your turn: What's your favorite international food and why? 


P.S. Please take a moment to stop by the International Christian Fiction Writers blog and meet the authors. 


P.S.S. I'll soon be giving away free downloads to another cool cookbook called Novel Morsels, which will feature favorite recipes of characters from books. Subscribe to my newsletter and/or Facebook page (links on the side bar) to be sure you don't miss the announcement.