What boy-crazy young girl wouldn't be flattered by the interest of a good-looking older "boy"?
Very few, and as Margaret Daley's newest romantic suspense so deftly illustrates, sometimes the consequences are your worst nightmare.
Here's the book's back cover blurb: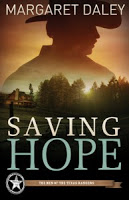 When a teenager goes missing from the Beacon of Hope School, Texas Ranger Wyatt Sheridan and school director Kate Winslow are forced into a dangerous struggle against a human trafficking organization. But the battle brings dire consequences as Wyatt's daughter is terrorized and Kate is kidnapped. Now it's personal, and Wyatt finds both his faith and investigative skills challenged as he fights to discover the mastermind behind the ring before evil destroys everyone he loves.
Saving Hope deals with the harsh reality of human trafficking in an informative and tasteful way that leaves you aching for the girls whose innocence is being stolen, without filling your mind with gritty images.
I've told my daughter that I want her to read the novel, and I'm recommending it to mothers of preteen and teen girls. Why?
Because Margaret has done a superb job of showing how innocently and easily a young girl can be lured into a trap.
Young men make quick cash, working for trafficking rings by seeking out girls at a mall, for example, and showing interest in them. As I asked in my opening, what boy-crazy, young teen isn't going to be flattered?
We had exactly such a scenario make headlines here in Canada recently, because the father found out what was going on, sought out the house and pounded on the door, demanding they release his daughter. At the time, the daughter was embarrassed, unaware of the danger she was in. Her father was lucky he wasn't shot.
Your Turn:  Wyatt Sheridan is having problems with his daughter. She wants more independence, but he isn't ready to give it to her. How would you let a teenager become independent, but still safe?
Please join me again on Wednesday. I've invited Margaret to stop by and share why she wrote this story.