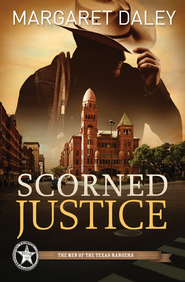 I have enjoyed Margaret Daley's books for years, and aspired to emulate them, so… you can imagine how thrilled I was to be asked to write an endorsement for Scorned Justice, the newest installment in The Men of the Texas Rangers series.
The book has now released from Abingdon Press, and if you enjoy romantic suspense, you won't want to miss it.
Margaret Daley is a prolific writer who is probably best known for her many titles with Harlequin's Love Inspired lines. But she is a master at romantic suspense. Scorned Justice  kept me glued to the page into the wee hours of the morning with its fast-paced action, wonderfully-developed characters and romance, and an explosive twist I didn't see coming.
Romantic Times Magazine agrees, giving it 4 1/2 stars.
I asked Margaret why she wrote Scorned Justice, what theme prompted the story. Here's what she had to say:
I wrote Scorned Justice because I wanted to explore what revenge does to a person. How far will a person go to get back at someone? How does that change the person? Why is it so hard to forgive someone who has wronged you? In the story the reader sees what revenge does to the person who exacts it as well as the person who is the object of the revenge.
Each novel in the series is a standalone story, so you won't be left hanging at the end, or not know what's going on if you haven't read Saving Hope and Shattered Silence, but if you're wondering, there is one more to come. Severed Trust releases in October.
Don't you love those titles?
Here's the book's backcover blurb:
Texas Ranger Brody Calhoun is with his parents in west Texas when an unexpected attack injures the brother of Rebecca Morgan, Brody's high school sweetheart. The local sheriff, a good friend, asks for Brody's help. At first, it seems like an open-and-shut case.
As Brody digs deeper, he realizes the attack may be related to an organized crime trial Rebecca will be overseeing. With Rebecca's help, he compiles evidence involving cattle rustling, bribery, and dirty payoffs that shatter the entire community and put Rebecca directly in the line of fire.
Brody expects to protect her. What he never expects is to fall for Rebecca all over again, or for a murder to throw the case wide open. Is Brody's faith strong enough to withstand not only deep-rooted corruption and cattle rustling, but also love?
Your Turn: The link for the books in Margaret's series is that all the heroes are Texas Rangers. What occupations would you like to see a hero or heroine have (or have enjoyed reading about) in a Christian romantic suspense?