For the past week, I've been in dream-up-a-new-story mode. This one is for the Love Inspired Suspense line. Since people often ask me how I come up with ideas, I thought I'd share some recent examples with you.
Ideas for snippets of scenes come from anywhere and everywhere; from a conversation at the dinner table; an interesting character I see while out and about; an intriguing news article or this gorgeous sight outside my office window this morning: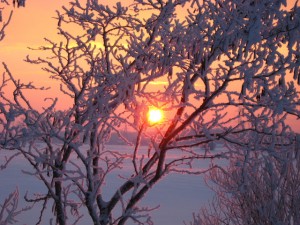 This particular image got me thinking that my heroine should see this the morning after a particularly traumatic evening to renew her hope. Then again…
You know what they say about red sky in the morning?
Shepherds heed warning.
That goes double for characters in my books. 😉
The original idea for the story I'm fleshing out right now actually started in 2011, while visiting a critically ill friend when her male nurse paid a visit. He was pretty handsome and so we had fun dreaming up a story featuring him.
His role has changed over the years, as the story ruminated in the recesses of my computer (ur mind). But that was the seed.
Story ideas often spring from what-if questions, too.
In this case, we asked: What if the bad guys go after the wrong woman?
It makes for lots of potential dicey situations, which my editor always loves to see. 😀
And…from the beginning, we planned to include a dog in a key role in the story.
That idea came about during a creative exercise I did for writer's block, in which you choose three random words then write a few sentence vignette that incorporates them.
I liked the vignette so much, that at this point, it is still part of my opening scene.
Since I had so much fun with Rusty, Zach's son's dog in Identity Withheld, I'm looking forward to discovering this new dog's personality. The inspiration for Rusty came from a newsletter subscriber who told me about the crazy things her childhood dog used to do and from an adorable Golden Doodle I met while out walking.
I haven't settled on the particulars for my newest dog character. I'm thinking Ranger sounds like a fun name and I'm thinking a Blue Heeler (Australian Cattle dog) might fit the bill.
They're courageous, watchful, protective of family, distrustful of strangers, high energy. Sounds perfect for a suspense don't you think.
Of course, my Bella thinks she should be the model for the character: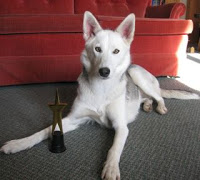 She is after all an award-winning actor. Even it was only in my daughter's film for sch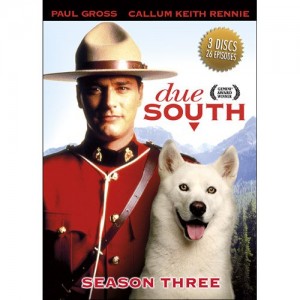 ool.  😉
I personally think she's been watching too much Due South and has illusions of grandeur. 😎
Your Turn: Any suggestions?