Writing this Christmas mystery whet my appetite for doing more set at this special time of year. I'm currently outlining a romantic suspense set on a Montana guest ranch and Christmas tree farm. But I digress. 😆
Yule Be Sorry is the 9th book in the Scottish Bakehouse Mystery series I introduced yesterday.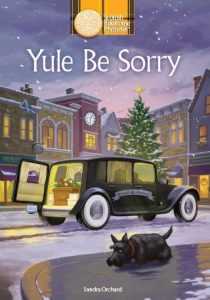 Inspired by the 12 Days of Christmas Song
Summary:
On the first day of Christmas, Molly Ferris's true love gave to her . . . one of many anonymous pranks leading up to Loch Mallaig's upcoming Yule Festival, an annual tradition celebrating the Michigan town's Scottish heritage. Initially, Molly and her best friends, Laura Donovan and Carol MacCallan, are charmed by the silly "Twelve Days of Christmas" gifts showing up at their Scottish bakehouse, Bread on Arrival. However, the fifth day presents ghastly tidings—the murder of local real estate agent Eric Wright, who's found dead with five golden rings on his fingers.
Discovered by the bakehouse's new delivery boy, whose girlfriend's family was facing the loss of their home for the holidays, Wright's homicide soon engulfs the entire village in suspicion and conjecture. With a history of shady deals, the murdered Scrooge had a seemingly endless naughty list of people who could have killed him—and perhaps it was someone Molly and her friends know and trust.
With their business's wellbeing threatened by their ties to the murder, the Bakehouse Three resolve to solve the mystery of who silenced Wright's night. Soon, the three Scottish hens realize that not only is their livelihood at stake but their lives as well. They must uncover the murderer before the killer gets to them—otherwise, they might be three bakers-a-dying.
Find Scottish Bakehouse Mysteries at Annie's Fiction.
Subscribe to the Scottish Bakehouse Mysteries Bookclub to receive 1 hard cover book a month ($14.99) , or every two weeks ($10.99), or to receive 1 Ebook a month ($5.99). You can sometimes find individual books being sold second hand.
I found several used copies of Yule Be Sorry for sale online at Amazon. But if you enjoy cozy mysteries and love everything Scottish, you'll want to get the entire set of these!
Our Next Two Complimentary Book Recipients are:
Congratulations Velma and Marlene! I'll be in touch.