I have a both a shoebox and computer folder full of potential crime ideas for future novels. The idea of investigating Art Crime was sparked by a newspaper article about Alain Lacoursière, a Montreal police detective who sought to combine his passion for art with fighting crime. He enrolled in an art history course and began collecting catalogs from art auctions, as well as reports of stolen art.
His first "buy" was an antique tapestry stolen from NY, which he "bought" at auction for $195,000. Of course, the money never exchanged hands. He reported the find to the FBI who recovered the tapestry and in return wrote a letter to the detective's boss telling him how valuable his work is.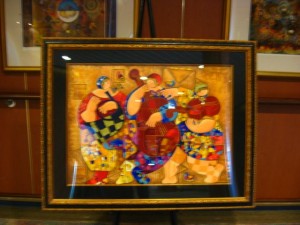 And so began one of the top art-theft units in the world. The FBI estimates that the international black market in art is worth about $6-billion a year, while Interpol ranks art theft as the fourth largest criminal enterprise after drugs, money laundering and weapons.
It sounded to me like a great springboard for a story. And when I boarded our Alaskan Cruise and saw the art gallery and information about the on-board auctions, I knew my cruise story was the one I wanted to work it into.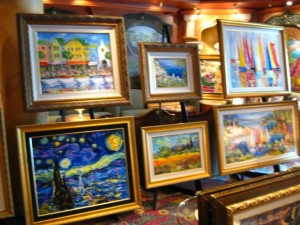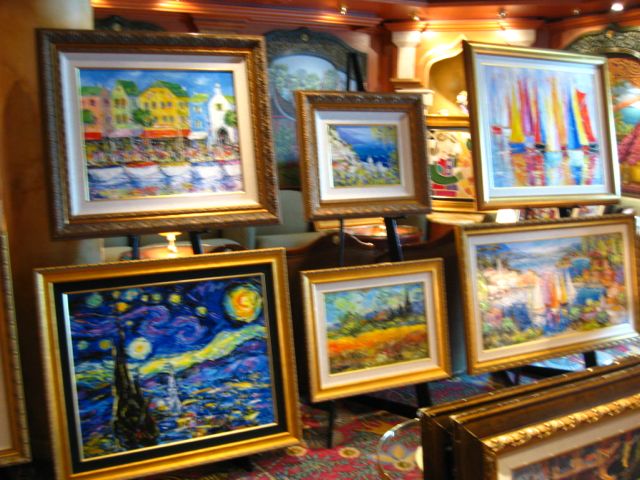 Recovery rates of stolen art are pathetically low, which makes it a wonderful niche in which my hero detective can shine.
Through my research, I also discovered the biography of the founder of the FBI's Art Crime Team, Robert K. Wittman. I devoured the descriptions of his exploits going undercover to rescue stolen treasures around the world and gleaned more ideas than I could possibly use in a short romantic suspense.
The book also gave a fabulous glimpse into the potential psyche of my hero.
So…while aboard the cruise, I visited my first ever art auction.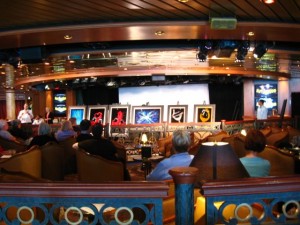 Only a couple of pieces of the many displayed actually sold, and so began my musing of how my unscrupulous gallery owners might use such a venue to smuggle something more valuable or "pay" for something else. I literally had dozens of ideas of how I might integrate it into the story.
Of course, you'll have to read Perilous Waters if you want to find out which idea I incorporated.
While many art thefts are crimes of opportunity, after which the thief waits for the crime to be reported and then either attempts to claim the reward or sells it on the black market, others are well-planned and the art may be used as collateral to fund other criminal enterprises such as drug and arms deals of organized crime.
And the art might be stolen from anywhere from a museum to a private collector to an archeological dig.
Or from a cruise ship. Maybe. 😉
All of the photos in this blog were taken during my cruise. Art was displayed throughout the ship.  
 The pieces pictured below are of the variety I envisioned my heroine most appreciating of her mother's former work, heart-warming depictions of carefree childhood…what she once enjoyed, before her mother became famous and Jennifer's idyllic world turned upside down.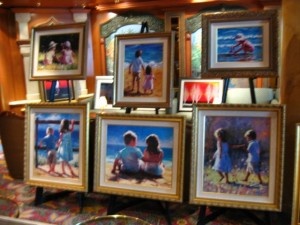 Your Turn:  What is your favorite style of art or artist and why?  Think about what you might put on a wall or shelf in your home or office if money were no object.  😎 (Scroll down past giveaway & tags to find the comment box)

To celebrate the release of Perilous Waters (available now from Harlequin.com and coming in April to stores everywhere), I'm hosting a
Giveaway For All,
even if you've already received Perilous Waters through the Love Inspired Suspense subscription service:
Interested in writing romantic suspense? Join me Tuesday at Seekerville for my how-to post.
I'm also delighted to be interviewed at an Australian blog this week–booklovers1