I had the privilege of reading an advance copy of Katy Lee's debut Love Inspired Suspense, Warning Signs, and unreservedly recommend it to all fans of the romantic suspense genre. This book will not disappoint. 
First the Back Cover Blurb: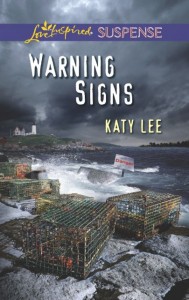 GUILTY UNTIL PROVEN INNOCENT
When a drug-smuggling ring rocks a small coastal town, the DEA sends Agent Owen Matthews to shut it down. A single father with a deaf son, Owen senses that the town's number one suspect—the high school's new principal—doesn't fit the profile. Miriam Hunter hoped to shrug off the stigma of her hearing impairment when she returned to Stepping Stones, Maine. But her recurring nightmares dredge up old memories that could prove her innocence—and uncover the truth behind a decades-old murder. Yet Owen's help may not be enough when someone decides to keep Miriam silenced—permanently.
There are tons of things I love about this book. It's fast paced. The villain is a mystery so the story keeps you guessing. It has a perfect blend of romance and suspense.
But what makes this book stand out for me is it's unique heroine.
She is an avid swimmer and a principal of a small regular public school in Maine and she's deaf. She refuses to let her physical challenges keep her from going after her goals.
These characteristics make for many insightful comparisons and intriguing twists, such as can we really trust her interpreter male sidekick?
Equally compelling, are the wonderful lessons the story conveys. It will transform how you think about, and interact with, those who are different from you, in particular the deaf.
One of the fun aspects of the story was learning about special signs for names. I invited Katy to tell us a little more about that. Click the "play" button to view her presentation. (Ensure your volume is on)
Cool, eh? I created this sign for my husband: his initial "M" waved over my heart to show my love for him.  😉
Your Turn: Create a sign for your name or the name of a loved one and share it in the comments for a chance to win a copy of Warning Signs. I'll contact the winner by email and share the name here on Sunday.
Update: Sunday, Sept 29th — Our winner is Sonja! Congratulations, Sonja, please check your inbox for my email.
BTW if you haven't read Katy's first published book, you can check out my review here: https://sandraorchard.com/book-giveaway/lets-chat-about-real-virtue/ It is another must-read.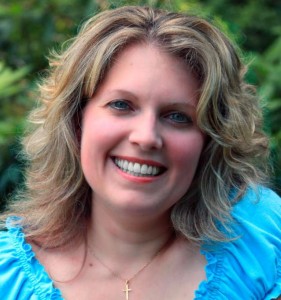 As an Inspirational Romantic Suspense author, Katy Lee writes higher-purpose stories in high-speed worlds. Through her writing, ministries, and teaching, she dedicates her life to sharing tales of love, from the "greatest love story ever told" to those sweet romantic stories of falling in love. Katy and her husband are born New Englanders and love to travel with their three adventuresome children.  You can connect with Katy anytime at her website, www.KatyLeeBooks.com. There you will find links to Facebook and Twitter.  She'd love for you to look her up!
 LIGHTHOUSE PHOTO CONTEST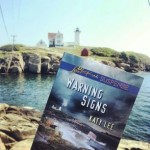 Also on her site you will find details to take part in the Lighthouse Photo Contest.  She hopes to receive lighthouse photos from around the world. So please, take part!