Today's post is short and sweet, because I'm working like crazy to finish the first draft of my next Love Inspired Suspense. But…
I wanted to celebrate with you the fun news I heard this week about my October release Critical Condition.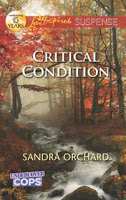 For those who have read the Undercover Cops series so far, this book has Zach (introduced in Deep Cover) as the hero.
The news is…
The Romantic Times Magazine gave Critical Condition 4.5 stars!!!
The 4.5 star rating is described as a fabulous read, a keeper–their second to highest rating.
But what was even more thrilling for me was how the reviewer described it:
"Well-developed characters and fast-paced action will keep readers fully engaged in this wonderful tribute to spouses struggling with a loved one's illness." 
The hero lost his wife to cancer eight years ago and now has to work undercover in a hospital to stop a killer. The suspects include several medical professionals involved in experimental and alternative treatments.
The reason I soooo appreciate this reviewer's description is because I wrote the final draft of this story after losing my dear writing friend to cancer and dedicated the story to her husband who is the kind of hero I imagined Zach being.
Your Turn: Would you like to help me spread the word about this upcoming release?
You could…
Share this post on FB or G+ using the icons below the post. 
If you've already read the book (through Hqn), please consider posting a review on Goodreads or your favorite online retailer. (Note: some, like Amazon, don't allow review posts until the book releases October 2nd) 
or…
Visit the book, or others in the series, at your favorite online retailer and click the "like" button. With Amazon this only works if you're signed in (ie. have an account). With Barnes and Noble and CBD.com, you can "like" using FB or G+ social media buttons.
Clicking the photos in the sidebar, takes you to the books on CBD.com (Christian Book Distributors)
Thank you so much for visiting my blog today and helping me celebrate. It is my dearest prayer that this book will inspire you to cherish the gifts of each day and open your heart to new possibilities. 
Have a fabulous weekend!