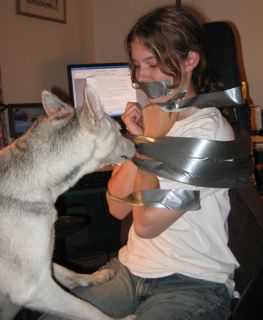 Let me start by assuring you that I DID NOT duct tape my daughter to the chair. Honest! 


And isn't Bella a true hero–um, heroine–to try to free her? 


Before I tell you what's going on at the whacky author's house, I want to give all of you a chance to guess. Let's have some creative fun. 
Your turn: What do you think is going on? 


Then…join me tomorrow at Jaunty Quills where the answer will be revealed, and one lucky commenter will receive a signed copy of Deep Cover. 
Also until Sunday, at Margaret Daley's blog, tell me what undercover cop assignment you would find most intriguing to read about for another chance to win a copy.