By now you've probably figured out that I have a lot of fun doing research for my books.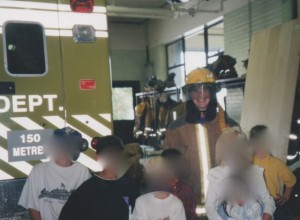 Yes, I let my children and their friends (whose faces have been smudged to protect the innocent 😉 ) believe I was taking them on a school trip to the fire station all those years ago, but really… in the far recesses of my mind, I must've known some day I'd write about a firefighter and want to know what it felt like to wear all that stuff!
And since I have so much fun brainstorming new books, I thought I'd let you in on the fun, too!
And…if your suggestion makes it into the book, you will be rewarded! 🙂
So here's what I need:
1) A famous person, such as a celebrity, that resembles my hero Jake.
If you can give me a link to an image online, all the better. Jake is a firefighter who lives in a small town close to Seattle. He's a widower with a four-year-old son, Tommy. Jake is tall and lanky. His brother Sam, looks like Mike Fisher (Carrie Underwood's husband-to-be) and Jake looks nothing like him. Any suggestions? Update: I'm leaning toward Amber's suggested Paul Walker, but still open to more suggestions.
2) A name for the community program he wants to start to help Single Parents get through the Christmas holidays (things such as men helping put out Christmas lights or bring in a Christmas tree for single moms or women baking for single dads–stereotypical, I know, but they do tend to be the areas that each struggle with). This was his wife's brainchild and he wants to name it something that will honor her memory. Her name (at the moment) is Stacey. Although if another name lends to a better name for the program, I can change it. If you have additional suggestions for the program that would be great, too!  I've decided to play with a variation of Dianna's suggestion in the comments for this one!

3) A Title for the story. The heroine is hiding out in Jake's town (under witness protection). She was a kindergarten teacher and dog trainer, but now she works in a library. The threat of being found by the person she'll be testifying against (kidnapper of a child) hangs over her head throughout the story. The story takes place between Thanksgiving and Christmas in a small town called Stalwart. Update: I'm still collecting great title ideas! Thank you to those who emailed me additional suggestions.  😉
Your Turn: Let your creativity run wild! The more off-the-wall the suggestion, the more intriguing twists it sparks.